BUCK'S STORY
BUCKSHOT AKA BUCK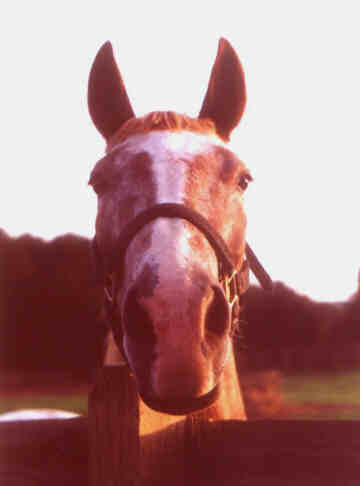 Raised as a pet for the first year of his life, Buck is absolutely certain he is 'God's Gift to the World'.

Unfortunately, this attitude netted him six - yes, six - different homes by the time I purchased him at 7 years of age and he definitely became 'God's gift to Me'.

Buck was actually my Black Belt present to myself after years of hard work and training in martial arts. Wanting a horse all of my childhood, I had been a self-taught rider of anything I could secretively get my seat on as a teenager and young person since my Mother would not even consider a horse in the family at all. "Dangerous", they were.

Years passed and I decided after completing my Black Belt that it was time to answer that lifelong call and so I started looking for a horse at a rather advanced age for a first-time horse owner ;-)
After looking at several horses who just didn't 'connect', I met Buck………and it was 'Love at first sight'. He walked up, looked me dead in the eye and confidently said 'Hi, I'm Buck….Who are you?'

That was the end of my hunt.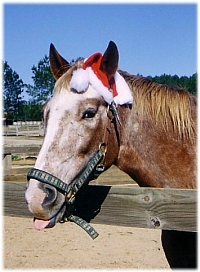 Registered from appaloosa race-winning stock, he was every bit the challenge I expected he would be at that first meeting but he is also loyal and responsive and brilliant and mischievous and he taught me things it would have taken me a lifetime to learn from a less challenging horse.
Now, after years of formal riding lessons and shows and other horses, Buck is still the 'love of my life' even with his jealousy of the others.

He was worth the wait!

Video of Buck
Conversations at twilight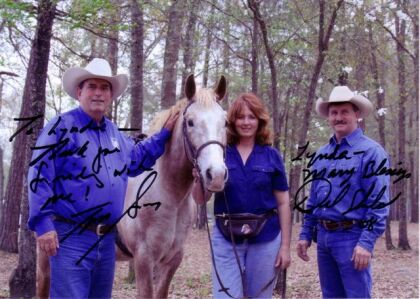 Best of America By Horseback Trail Ride with Tom Seay
This weekend ride was held at Lakeview Plantation in South Carolina March 29th and 30th, 2008 and
was broadcast on the RFD Channel in September. Lynda and Buck had a great time with Irina and Mystic and Terry and Kuntry. The site is great, wonderful scenery to ride through and great food and activities all weekend.


He's a sorrel roan appaloosa, very smart and incredibly
mischievous



Kaitlin and her first horse ride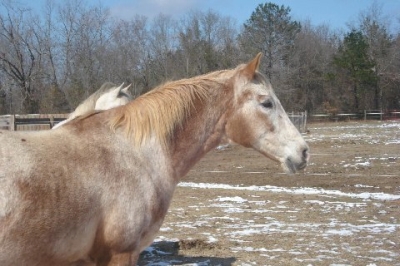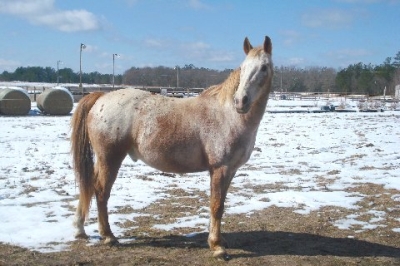 | | | |
| --- | --- | --- |
| | | |
| | | |
| | | |
| | | |