Titan came to Thomson, Georgia from Minnesota as a seasoned Drafting horse and Foxhunter when he was originally purchased by John Gray who was very instrumental in the early developement of the farm and resided on the farm for many years.

Titan is a very large, 18 hand, 3/4 Belgian/1/4 Thoroughbred cross with a sweet, personable disposition but with plenty of fire also. He has been a working draft, a hunter-jumper and a super trail horse over the years.
Originally boarded at Foxboro, he and Buck shared the same pasture there for a while. Titan has undergone extensive medical treatment for canker (a breed predisposition) at the University of Georgia and Appaloosa Acres was built with a specific set-up to provide the optimum healing environment for him. Once cleared of canker, he was extremely happy to be able to be a 'horse' again and has proved
to be worth his weight in gold as a reliable, fair, unquestioned Herd Leader. Although very protective of his herd, he is gentle with people and has quite a sense of humor which seemed to really blossom during his time at UGA..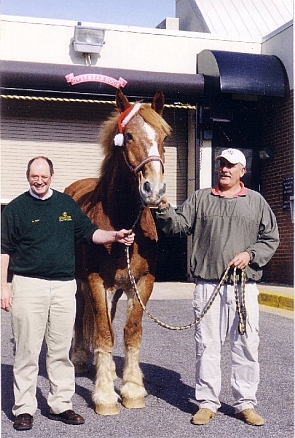 Titan with Dr Andrew Parks, his veterinarian, and John, at UGA at Titan's last checkup just before Christmas 2005. What a great present - A Clean Bill of Health !!!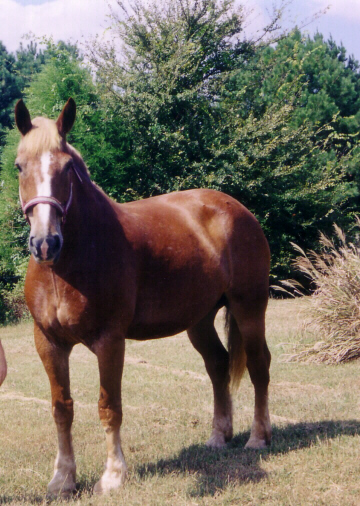 TITAN AT AGE 10 YEARS

TITAN WATCHES OVER THE KIDS


TITAN IN MOTION - WHEN THE EARTH MOVES