J A Shugak's Legacy aka

LEGACY'S STORY
DOB 5-5-06

Legacy's story begins on Halloween night in 2006 when Chris Carey invited me and a friend Beth Dunn to attend a Halloween party at Janice Boswell's Arabian farm.

It was amazing to see all the horses calmly observing the antics ofstrangely dressed people and weird lights and all kinds of spooky noises,
from their stalls in a large, darkened barn.



"Shugak and Janice Boswell, his lifelong owner, trainer and partner with whom
he is totally - and forever - incredibly bonded. This was taken on his 30th birthday.
The magnificence of this horse at 30 years of age was remarkable and it is our great pleasure to share in his life through the ownership of his son Legacy."

I learned that night also that Shugak had been the 2004 Arabian Stallion of the
Year and was a consistent top producer in the Arabian tabulations.


Shugak at age 30

In the stall next to Shugak was a 5 month old coltů..cute as could be and watching all the activity with self-assured interest. Beth and I both fell in love with him and within the month, he belonged to Appaloosa Acres.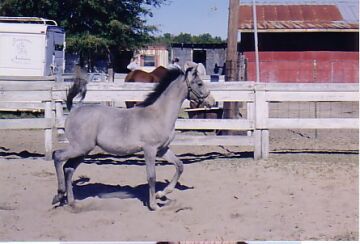 Legacy at 5 Months
| | |
| --- | --- |
| At the Arabian Class A show at 10 mos. | With big brother Spike |
| In the Ring with Janice | With 'Mom' at the show |
| | |

He stayed at Janice's until he was gelded and grew to be a lovely Arabian sporthorse prospect.


Legacy at 22 months of age


Legacy at 27 months of age

Legacy at 27 months of age
Upon being gelded, Legacy visited for a while with Becky Barton to learn herd dynamics and then became a part of the Appaloosa Acres family.


Legacy and Shannon in the Snow



Legacy's Family Heritage

Legacy's Sire - Shugak


Legacy's dam - Shadijah


Legacy's brother - the famous CBS Hobbitt


Legacy's brother Spike as a yearling

Legacy's sister Babette
Legacy was expertly trained for several years under Melanie Mitchell to hopefully be shown as a sporthorse and in dressage. It looked like he would make his father proud as he has tremendous attitude and loves to work.
However, he was just barely horse-sized and none of us were light enough for the training, jumping, etc, that he was so well suited for so he has been 'hanging out' and waiting for 'his person' until just recently when an excellent young rider named Chelsea came into his life. They are a great team and Legacy could not be happier Born May 5, 2006, Legacy will hopefully carry on the 'legacy' of his bloodlines.
| | | |
| --- | --- | --- |
| | | |
| | | |
| | | |
| | | |