The Wizard's Moonshine aka

MOONSHINE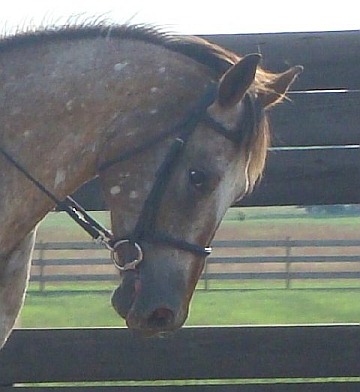 DOB 4-1-02

Moonshine came to us by happenstance when I saw an ad for an Appaloosa
in the local paper. Out of curiosity I called and went to meet this young gelding who
had the neatest color pattern I'd seen in an appy. Almost like he'd been splashed with
color by some inebriated elf. Hence the name ….. The Wizard's Moonshine.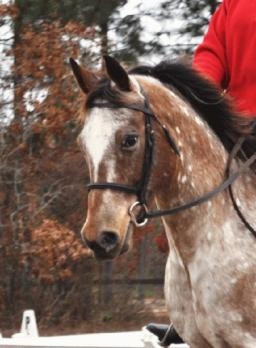 After about 3 weeks of waiting to see if anyone else was interested in him, I checked and the owner informed me he was going to auction if I didn't take him and so this strange but beautifully patterned roan appy came home to Appaloosa Acres.

With the limited history supplied by the original owner, I was finally able to trace and confirm his parentage and he is now dual registered as both an Appaloosa and a Half-Arab and is training for dressage and doing nicely.

He definitely had 'issues' when he came to us but the skilled horsemanship of Tim Gradous did a remarkable job of changing this very timid, anti-social, constantly anxious, untrained and worried youngster into a loving and affectionate partner who tries hard to please and, though he still can sometimes get worried about things, normally 'asks' if he should be, before he reacts badly to something. A remarkable change and Tim will always have my gratitude for that.

Born April 4, 2002, Moonshine will hopefully just get better with time…..like
fine wine……or moonshine

Moonshine schooling

Moonshine the day we met

Jasmine Farm's Halloween Dressage Show 10-31-09
The Wizard's Moonshine First Show


Great Buddies ... Merlin and Moonshine


Hanging with the Boyz and Watchin' the Girlz
| | | |
| --- | --- | --- |
| | | |
| | | |
| | | |
| | | |