Southern Mist aka

MAY'S STORY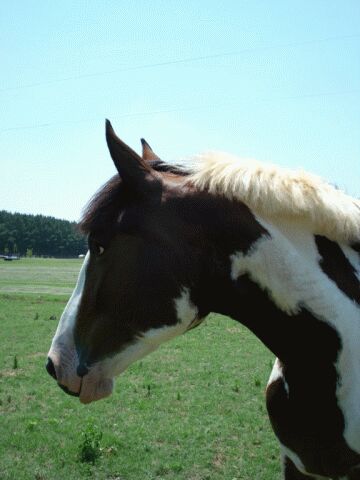 MAY - AGE 3 Years
DOB May 14, 2004

May is a half-sister to Merlin and was born May 14, 2004 in Northwestern Canada just a few days after her brother. She came to the Augusta area before Merlin as she had been purchased earlier by Dianne Cox who also had purchased their Sire - a large, black Percheron stallion known at the time as Duke.

May was 'low man' in Dianne's herd of mares and so came to live with us temporarily for socialization and a less-dominated situation. Purchasing her a few months later from Dianne, she has been with the herd at Appaloosa Acres ever since, with Titan as her devoted protector.

She was given the show name Southern Mist by one of her earliest admirers,
Beth Dunn, and it suits her beautifully. Being ¾ Percheron and ¼ Paint has made for a mare with both beauty and stability and a definite 'Southern Charm' that allows her to capture the attention of horse and human.
Click Here To View a video of Lisa and May Riding lesson August 8, 2013
May with her dam

May with her friend Charlie


May 'On the Move'


Bert 'proofing' May during mountings


Lynda on May early in her training



May on her first day of Training .........'What ARE these humans up to here?'

| | | |
| --- | --- | --- |
| | | |
| | | |
| | | |
| | | |